HOUSE PAINTERS IN VICTORIA
Call now and get quotes from local painters in Victoria, BC.

TRUSTED COMMERCIAL AND RESIDENTIAL HOUSE PAINTERS IN VICTORIA
Get painting quotes from trusted house painters in Victoria and the surrounding communities of Saanich, Langford, Colwood, Sooke, Oak Bay, Esquimalt, Fairfield, Metchosin, Royal Bay, North Saanich, Cowichan, Sidney, Shawnigan Lake, Brentwood Bay, Mill Bay, Duncan and more!
Post Your Project & Get Quotes
Homeowner toolkit
Helping you hire the right painter and prepare for success. Download your FREE copy!
FREE Download
NEED QUOTES? CALL TOLL FREE
1-866-PAINT-18
Get painting quotes from local professional painters today!
Call Now
Victoria's
Trusted House Painters
The fastest way to connect and get quotes from local house painters in Victoria.
DOWNLOAD YOUR FREE COPY OF
How To Choose The Perfect
Paint Colors For Your Home
7 Professional colour design tips to help guide you through the maze of choosing paint colors.
PLANNING ON PAINTING YOUR HOME?
HIRE PROFESSIONAL PAINTING COMPANIES THAT CARE ABOUT YOUR HOME
Victoria's Professional Painters
Are you planning on painting the interior or exterior of your home or office and need quotes from professional painters? Trusted House Painter has house painters in Victoria that can help! 
Hiring Trusted House Painters not only gives you confidence that the project is done with integrity, it gives you the opportunity and free time to stroll through Cook Street Village, shop at your favourite stores downtown Victoria, or take a walk on Dallas Rd beach with peace of mind. Our membership of painters are able to meet your expectations and complete your residential painting job within your time schedule and with professionalism.
Freshening up your home with new paint colors will bring life into your world and make your home a warm and cozy place to rest your head. Whatever your needs – either residential or commercial, Trusted House Painter is the fastest way to connect with locally trusted painters and get the job done!
Within minutes you can post your project to all local painters or you can find local painters and invite your favourite contractor to bid on your project. Our painting contractors will connect with you for a free estimate, walk through your space to get the details of your project and provide you with an estimate based on your painting needs.
Our painting members care about your home and make it easy for you to get your home painted quickly. At Trusted House Painter, we insist on making it easy for you to get quotes and start your painting project. And using our FREE Homeowner Toolkit we make sure you're prepared to walk through the process of painting your home with condense and protection. 
Post your painting project to all painters.
Search for painters near you.
Get fast, prompt replies from local painting contractors.
View member profiles for previous reviews.
Post, save and archive all your painting projects.
Easy to use app and trusted in the community.
Friendly customer support makes it easy to get started.
A guaranteed awesome experience!
FULL-SERVICE PAINTING IN ESQUIMALT, WESTSHORE AND SURROUNDING AREAS
We make it easy for you to find professional house painters in Victoria and get your residential painting project started. Our painting contractors can handle projects as small as bathroom renovations, or as large as compete exterior repaints.  
Popcorn and texture ceiling removal
Kitchen cabinet painting
Wallpaper removal and installation
Stucco repair, window caulking and other tasks.
ECO-FRIENDLY PAINTERS ON TRUSTED HOUSE PAINTER
Trusted House Painter's online service is eco-friendly and encourages homeowners to reduce their carbon footprint and connect to locally trusted painters the modern way. We also encourage the application of Low VOC paint to your home – and proper recycling and disposal practices. Together we can all paint the world a better place.
Residential Painters in Victoria
Residential painting services cover both large and small jobs. For the interior of your home most surfaces include walls, ceilings, trim, doors and other specialized items like kitchen cabinets.  With exterior painting our locally trusted painting contractors can refinish your front door, clean up the trim around your home or provide a complete exterior repainting service. Whether you want a fresh interior space or you're selling your home with a realtor, we can make the process of painting your home easy. It starts with finding painters and posting your project.
RESIDENTIAL PAINTING:
 INTERIOR
Quickly find interior residential painters that can help you paint:
Living rooms, TV rooms and Family rooms
Kitchens, Hallways, Staircases
Foyers and front entrances
Bedrooms, bathrooms and powder rooms
Kitchen cabinets.
Tall, vaulted and difficult ceilings 
Doors, trim and baseboards.
RESIDENTIAL PAINTING: 
EXTERIOR
Looking for professional house painters in Victoria that can bring the exterior of your home back to life? Trusted House Painter's protect all exterior surfaces such as:
Decks and Fence Staining
Handrails and Steps
Wood Patios

Fascia boards and window trim

Gutters and downspouts
Garage and porch floors.
Most exterior repaints require proper preparation prior to painting. This usually involves washing mildew and dirt off your home, sanding loose and flaking paint, caulking or using wood filler, and other protective services like covering your garden with light sheets or canvas drop cloths. Learn more and download your free House Painting Planner to help you prepare for painting success.
Commercial Painters in Victoria
Whether your business is large or small, Trusted House Painter has Victoria's best painting contractors ready and available to get your painting project started. Commercial projects include:
Retail stores and restaurants
Office

 and break out room painting

Wallpaper removal and installation
Drywall, baseboard and ceiling tile repair
Mechanical room and staircases.
COMMERCIAL PAINTING: INTERIOR
One of the best ways to add innovation, energy and efficiencies to your workplace is to add colour to the walls or ceilings. Whether your workforce is in large open rooms or in their private home dwellings, adding paint can greatly bring ideas to life! Don't you feel good when there's fresh color and design surrounding you? Trusted House Painter can provide interior commercial painters for all your projects:
Interior wall and office painting
Cabinet refinishing and repainting
Floor and industrial coatings
Renovations and branding updates
COMMERCIAL PAINTING: EXTERIOR
You need reliable and trustworthy exterior commercial painting contractors; Trusted House Painter has your back! Whether your building a new custom home, an abstract architectural commercial building or giving your retail business some fresh curb appeal, you can count on Trusted House Painter to connect you to house painters in Victoria and help plan for a successful project. Many paintable exterior surfaces include:
Vinyl siding
Brick and concrete flooring
Wood siding, trim and fencing
Cedar shingles
Metal surfaces
Stucco and Hardie-board 
Aluminum, steel and galvanized metals.
Soffits and flashing
Post Your Painting Project Today!
For your next residential or commercial paint project Post Your Project, download your Homeowner Toolkit and get quotes fast! Our free, online service helps homeowners in Victoria like you who what their house painting done right!
WHAT HOMEOWNERS ARE SAYING
I used the app to get a painter for my project and I was super delighted at the results!As this service grows, it will no doubt serve many happy home owners!
I wanted to get my house painted before the weather turned and I found Trusted House Painter. I found a painter and we got it done fast and clean. It was a great experience.
I found the website and responses to be fast! Trusted House Painter was recommended through a family friend. I'm happy I found this service!
Call now and get quotes from local painters in Victoria, BC.
Make Your Painting Project A Success!
3 Easy Steps To finding painters:
Here's how the process works:
1. Post your project 
Go to www.trustedhousepainter.com and click "Get Started".
2. Download Your Homeowner Toolkit 
While you wait for painting quotes, download your free Homeowner Toolkit and prepare for painting success.
3. Get Quotes 
Let Trusted House Painter do the work and connect you to painters faster than other methods. 
For more information or help, use our chat widget or give us a call at 1-866-PAINT-18 today!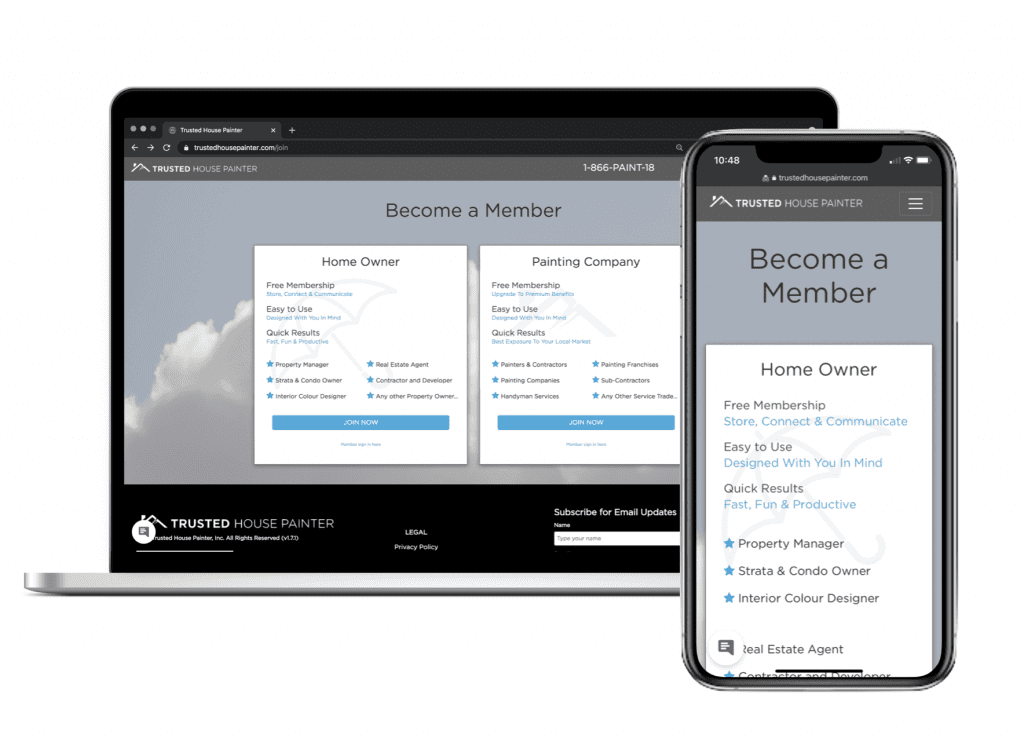 Follow Us on Social Media