Beautifying your home with paint can be time-consuming and inconvenient. However, there are a lot of excellent benefits attached to it.
House painting is a good investment that raises the good looks and integrity of what could be your most valuable asset. Whether you are a landlord or a first-time homebuyer, chances are you will paint your house sooner or later.
---
This article will take you through how often you should paint your house, interior and the benefits attached to it. You may be wondering how long it takes to paint a room– but by having the right equipment and thoroughly preparing, you'll have it done in no time.
---
You should see paint as your home's first defense against foreign elements, and it usually is the first thing guests and homebuyers see whenever you decide to sell the property.
How Often Should You Paint Your house?
Unfortunately, there's no set-aside time to do this because every household is different. Though, there are some recommendations that we can help guide you with.
A good rule of thumb is every 5 to 10 years, you should paint your house, depending on your residential area, weather, climate, or the previous paint condition.
Insight: Remember that paint in different areas of your house will wear and break down within different periods. Mainly due to sun exposure, areas of high traffic, etc.
We have outlined some key areas:
Wood siding
You should paint your wood siding every 3 to 7 years or maybe every four years if stains are bleeding through.
Stucco
Paint over stucco usually lasts five years. It is very durable and can make your exterior look amazing. However, it would help if you painted it every 5 to 10 years. Generally, stucco houses are in sunny climates. The paint will oxidize and get a chalky appearance. When repainting over stucco, it is paramount that the whole stucco area is first pressure washed thoroughly.
Aluminum and Vinyl siding
For aluminum siding, you should paint it every five years at least. Since it doesn't swell or shrink as much as wood, the paint won't peel off as it does with wood.
For vinyl siding, it is recommended that it's painted every two to five years. If you happen to live in an area with difficult weather conditions such as high humidity, or snow, you may want to repaint your siding more often.
Vinyl siding is pretty simple to paint but check out our step-by-step guide for clear guidance.
However, for cement fiberboard siding, you should paint it every ten to 15 years.
Brick
If your brick home isn't painted, you'll need to clean it occasionally, but you'll have to repaint it every 15 to 20 years if it is painted. Bricks have a porous surface and hold paint well.
Here Are Some Common Signs That Your House is Due for New Paint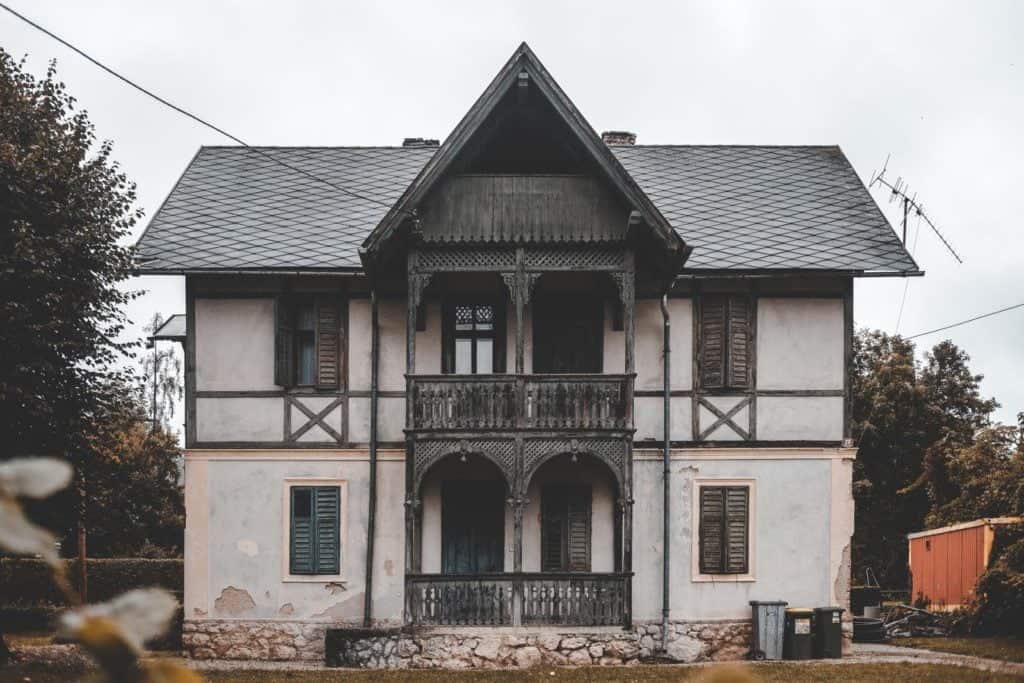 Image Credit: Unsplash
Cracked caulk
Originally, caulk was used to seal gaps or cracks around doors, windows, plumbing pipes, among other things, to prevent air, water, or bugs from getting into your home.
Therefore, if you find tiny cracks in the areas mentioned above, you could fix them with a fresh caulk application.
However, ignoring the tiny cracks could allow moisture to get in and cause significant damage.
Aside from moisture, extreme weather cycles like freezing nights and sunny days can also cause caulk to lose elasticity.
Furthermore, you'll need to add a new caulk application and paint it to increase the protection when this happens.
Peeling, bubbling, or cracked paint
Water is the primary reason why paints peel off bathroom walls, ceilings, exterior walls, etc.
When water moves through paint, it causes the layer to isolate itself from the surface, developing into peeling, bubbling, or cracked paint.
Asides from water, harsh winters, intense sunlight, storms, ocean breezes, blowing sand, and extreme humidity can contribute to peeling, bubbling, or cracked paint.
When this happens, it's a sure sign that your home needs a fresh coat of paint. If you are delaying repainting your bathroom because you are unsure about painting behind your toilet, there are a few simple steps to follow to brighten up your bathroom.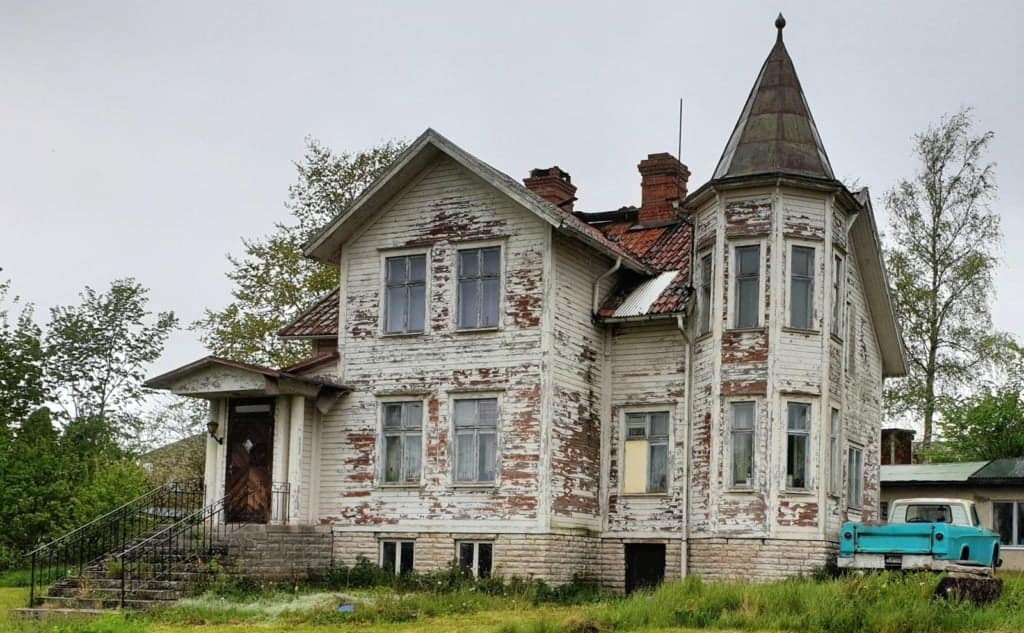 Image Credit: Unsplash
Fading paint
Direct exposure to the sun is one of the major causes of fading paint. So, if your house gets hit by regular sunlight, your wall paint will fade quickly.
Here's why
The sun possesses UV radiations that break down chemical bonds found in paints and sucks out their color.
Asides from the radiation from the sun, most inexperienced painters make the mistake of not priming walls before painting them.
This mistake is a dull-looking wall that has the old color bleeding through the freshly layered paint.
Patching stucco or popcorn ceilings
You can have holes or cracks in your stucco for different reasons, including poor installation, seasonal changes, insufficient mixing, and mixing wrong proportions.
However, the two primary reasons cracks are found in stucco are shrinkage-induced strains which usually occur in the dry season and the house settling process.
When you find cracks in your stucco, as a homeowner, your options are limited.
You either re-stucco the entire house or patch the stucco cracks and paint the whole house.
Repainting stucco or popcorn walls and ceilings is a challenging task, but our step-by-step guide details How to Paint a Popcorn Ceiling to restore brightness to your living room.
Paint transformation
UV rays can cause paint to fade, and in most cases, the paint will transform into something different entirely.
For example, if your favorite color is beige, it could transform to pink in no time.
So, to prevent the transformation, always ensure that your paints are of a higher grade that can resist UV effects.
Tip: When buying paint, make sure you purchase the correct type of paint for the specific application. For example, purchase exterior paint if you are painting outside.
To make your house more appealing
If the paint on your house is fading away, thus giving your house a horrible curb appeal, it's a sure sign that your home could use new paint.
According to a paint color analysis conducted by Zillow, it revealed that the right paint color could raise the overall value of your home.
You plan to sell your home
Once you decide to sell your home, you'll need to paint it in a color that appeals to a broader demographic.
Generally, people like colors like beige, white, pastels, or light brown.
You dislike the color
As you grow, your interests might change with time. Your favorite color that used to be green can change to pink.
When this happens, you'll no longer prefer the green paint that no longer appeals to you and proceed to paint the house pink.
How Often Should You Paint Interior Walls?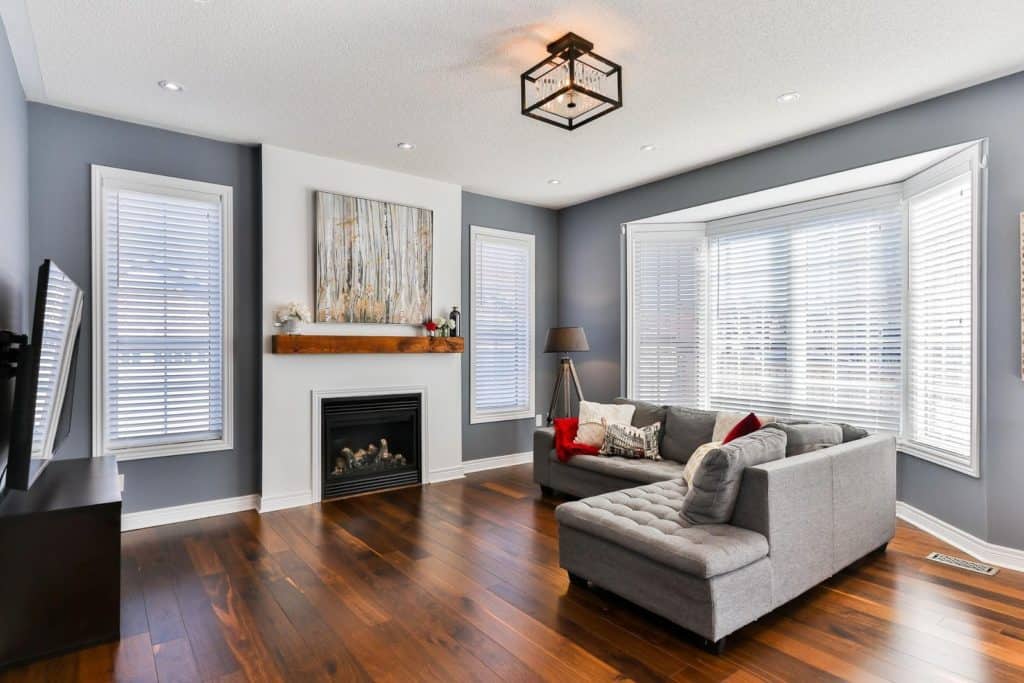 Image Credit: Unsplash
Interior walls in your home are divided into different sections. Some areas need to be repainted more often than others due to wear and tear. It's important to know how to prepare and clean your walls, especially flat painted walls, to not damage the current paint on your walls.
For example: If you spend more time in your living room, hallway, kitchen, bathroom, and dining room, that means you'll paint these areas more often due to stains, marks, etc.
Kitchen and bathroom
It is common to find food splatters and messy fingers on your kitchen walls, and moisture in your bathroom.
When these things happen, it leaves a stain on the wall.
Since you spend more time in your kitchen, bathroom, and laundry room, you'll need to paint it more often than your living room and dining room.
You'll need to paint your kitchen or bathroom every three to four years. Toilets are tricky; we have a guide to help you if you are about to paint your bathroom.
Dining room and Living room
Assuming you used high-quality paint and painted the dining and living room, you won't have to worry about repainting for another few years.
The reason is that you may not use the dining room as often as the kitchen and bathrooms; so, the paint there will last for a while.
It is recommended that you paint your dining room or living room every five to seven years.
Bedrooms
For adult bedrooms, the paint there can last for a long time because you don't spend much time there except maybe at night when you want to sleep.
So you may not have any need to repaint your bedroom unless maybe you want to change the color.
However, for kids' bedrooms, it is the opposite. Children play and sleep in their bedrooms. Therefore, their room needs to be repainted every two to three years.
How Often Should You Paint Your Ceiling?
Usually, white painted ceilings get stained by dust.
Furthermore, repainting your ceiling can be a fantastic way of brightening your home because as time goes by, white ceilings will produce yellow spots due to moisture, sunlight, and daily wear.
Meanwhile, bear in mind that your ceiling paint will last longer than your wall paint.
However, you're advised to repaint your ceilings every ten years, or you could repaint them whenever you plan to repaint your walls.
How Often Do You Need to Paint Your Trim and Baseboards?
Your trim and baseboards are just as important as other areas of your interior, so you need to take care of them.
Areas like doors, baseboards, cabinets, window trim, and other decorative wooden parts of your interior are most affected by stains and everyday wear and tear.
A trim inside a room with high traffic will easily get stained or chip quickly compared to one in a room with less traffic.
You're advised to repaint your interior trim every two to four years, depending on its location.
Painting your trim and baseboards is a pretty simple job to get your room looking refreshed and alive again, and you'll have it completed in no time if you follow our step-by-step guide.