DIY and home improvement tasks are challenging, but we recommend giving it a try; whether you are painting a brick wall, your cabinets, your garage doors, general furniture, or even glass, we've got a list of posts to put you on track.
Ripping out your tiled floor and then replacing them with expensive commercial patterned tiles will be costly, as well as costing you time. Therefore, learning how to paint a tile floor correctly will save you a few dollars and allow you to put your feet up.
Removing and destroying old tile requires a lengthy, messy, and environmentally unfriendly process.
So, if you don't want to harm our environment further and are up to saving a bit of cash, continue reading our guide on how to paint a tile floor.
How to Paint a Tile Floor: Best Paint
Typically, three paint types work best when discovering how to paint a tile floor. The top three picks are chalk paints, latex paints, and oil-based paints.
It's essential to understand the benefits of each paint type to allow you to make the best possible decision.
The table below summarizes the advantages and disadvantages of each:
| | | |
| --- | --- | --- |
| Types of Paint | Advantages | Disadvantages |
| Chalk Paint | Chalk paints can be used without a primer, and if you plan to have a patterned finish, they can serve as a base coat. | |
| Latex Paint | It can be used for either solid or patterned tiles and usually dry reasonably quickly. | The tile needs to be primed with an epoxy or urethane primer for best adhesion levels. |
| Oil Based Paint | Oil-based paints are tougher than latex, so there will be minor damage or chips. | The tile needs to be primed with an epoxy or urethane primer for best adhesion levels. Oil paints take longer to cure and are extremely dangerous for the environment. |
The three main types of paint to use on tiles are Chalk, Latex, and Oil.
What Style Brush Should You Use?
While you may not want one to splash the cash on quality paint equipment, you must bear in mind that this could be the difference between a quality finish and an unprofessional look.
Depending on which type of paint you decide to use may alter the required paintbrush. For example, if you use water-based paint, a synthetic paintbrush is recommended as a natural bristle brush may absorb too much water.
?Hot Tip: You'll only want to use your paintbrush when cutting in or painting around the edges of your tiles.
Once you are ready to paint the main surface of your tile, then switch to a roller. Ideally, you want something small and easy to maneuver, such as a mini roller. If you can, purchase a short-pile roller as these will leave you with a smooth and even finish.
How to Paint A Tile Floor: Adding Patterns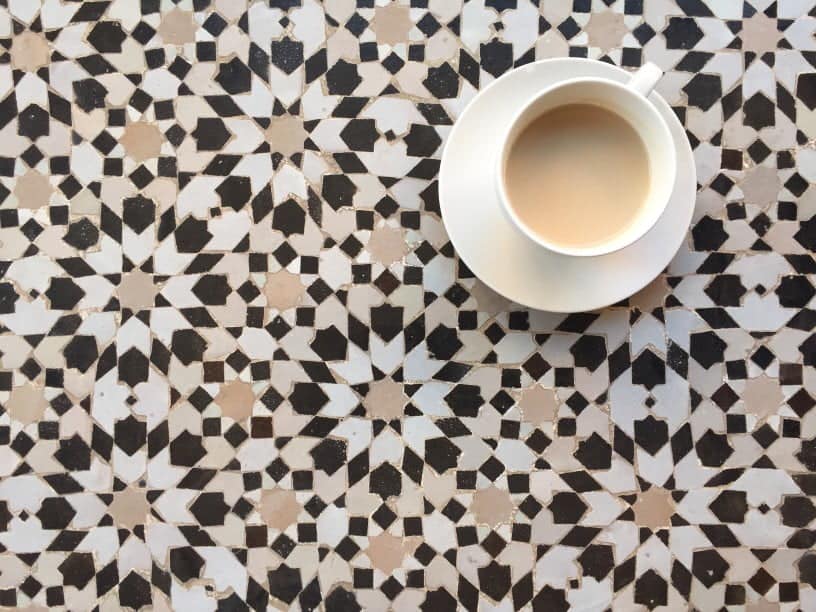 The simplest way to transfer a pattern onto a tile is with a stencil which can be bought, or you can create a stencil that fits the size of your particular tile.
Place your stencil onto your tile, ensuring the pattern reaches the edges of your tile, and then secure with some painter's tape. As mentioned in the best paint section of this blog, you can use either chalk paint or latex paint when adding a pattern to your tile.
So, using a mini roller and whichever paint you prefer, gently roll over a section of your stencil at any one time. As you complete one tile, move on to another till and replicate the process for your entire floor.
?Bear in Mind: If you rush and try to paint the entire stencil in one go, you may notice heavy roller marks.
If you spot any errors that need touching up, you can use an artist's paintbrush to correct them and let the paint fully dry before adding a clear water-based sealant.
What Color Should I Use?
Using a complementary color for your existing tile will help you avoid a jarring contrast with the rest of your home's decor.
Dark or bright colors can overpower a room, so use light colors instead when painting your tile.
If you plan to paint a mural, you should choose a design that is easy to paint and looks good in your home.
Before you Begin:
Now, there are definitely some pros and cons to round up before you begin rejuvenating your tiles. It's important to weigh these up before you get started, as a failed job could leave you with damaged tiles that need to be removed.
| | |
| --- | --- |
| Advantages: | Disadvantages: |
| ✔️Can be done independently, no need for a professional | ❌ Not a long term solution |
| ✔️ It's significantly cheaper than replacing and laying new tiles | ❌ In area's that you walk on a lot, you may see chipped and peeling paint |
| ✔️ You are able to pick a color or shade that matches your interior color scheme | |
Advantages and Disadvantages of Painting Tiled Floors:
How to Paint a Tile Floor: The Guide
Thorough preparation is essential for any painting or DIY task, whether you are a professional or just a beginner. Preparing your tiles just like you would your furniture, ceilings, or walls will guarantee the task's success.
Supply:
Paint tray and liner
Paintbrushes
Sandpaper
A scouring sponge
Rubber gloves
Eye, ear, and respiratory protection
Tools:
Materials: Epoxy bonding primer, A clear polyurethane finish, TSP or a similar cleaner, Tile grout, Painter's tape, and Plastic sheets
Round-up on How to Paint a Tile Floor:
Learning how to paint a tile floor presents a particular set of challenges when it comes to painting; after all, they were never meant to be painted in the first place.
It's possible to get the job done right and extend the life of your tile with a few simple tricks. When painting, start with the lightest color and let it dry completely before moving on to the next to prevent smudges from forming.
To paint the tiles, the tedious cleaning process seems like a breeze afterward. To ensure that all three types of paint adhere to your tile, a high-adhesion primer must be used before applying any of the paints.
Use several thin coats of paint when painting a solid color surface on your home. If your paint color is significantly lighter than the original, a minimum of three coats of paint is typically required.
But, if you don't feel up to tackling the tasks you can find a house painter on our site, and view our blog on the questions you should ask a house painter before you hire them!