Finding the best blue exterior house colors can be tricky. The color blue has many variations that are often related to calmness or a sense of serenity. It has long been a choice for interior painting and decoration, but now it has emerged as an exterior painting option.
Homeowners going for a blue color option associate it with a classic or vintage look from the many different variations. If you are going for blue, there may be many overwhelming options, but in this article, we will help you narrow down your options to the choice of your liking.
How to choose the best blue exterior house color
The house exterior is made up of the house and its environment. Therefore, selecting a color in harmony with the home's surroundings and the house itself is critical.
Here are a few tips for choosing the right color for your house:
1. Think big, plan small
When it comes to creativity, many ideas come to someone's mind, especially in the case of house colors. This can be backed up by the many implemented colors and patterns of other people's houses.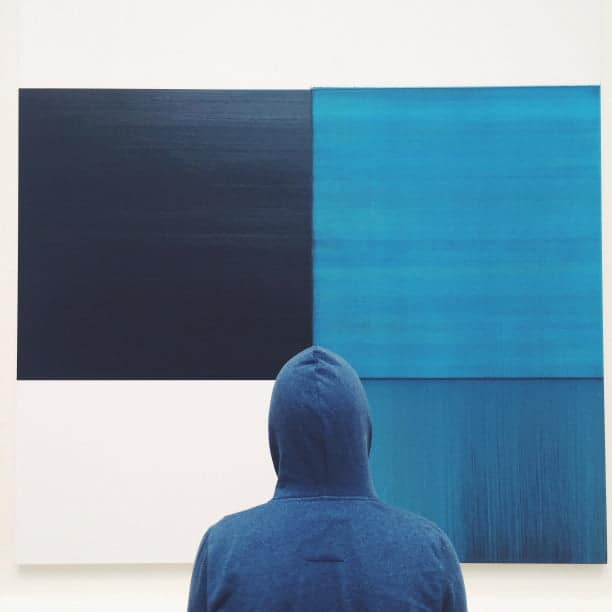 This makes someone excited to come up with the best color combination and choice for their home. This can be bad if the homeowner rushes into an impulsive decision to get the specific look.
Recognizing that not every palette or color that looks good on one house goes with any other home. This is the same for housing trends that come into the market that many owners go for only to regret later on.
It is advisable to plan slowly for the right color for your house. It may be a single color for blue paint, but many shades apply to your house, and some don't.
To get the best of your color choice:
When you settle on a color, get the paint supplier to show you a sample of paint so that you're sure of the option.
Take a sample of the paint and paint it in an inconspicuous but exposed part of your house. Observe how the color interacts with the surroundings, the lighting throughout the day, how it looks at night, and what it looks like in different weather conditions.
Once you've established that the option is a good one, you can go ahead and paint the rest of the exterior of the house. This will save you from costly mistakes because removing paint and repainting is time-consuming and expensive.
2. Consider the landscape
The landscape is part of the overall house appeal. When houses are built, the landscape is modified to fit the type of house design, which includes the color.
Good landscaping balances the house's colors and helps you choose the perfect palette. Green will pop against the paint, and there are a few measures you could implement to make sure your house pops out instead.
If trees surround your house, opt for a brighter blue so that the trees don't drown out the house color.
If your house has fewer trees and more shrubs, choose a color that is almost similar in saturation to the colors of the shrubs but brighter. This will create a complementary look with the vegetation visible too.
If your house has more flowers than green, use dull shades of blue to make the house and flowers stand out.
Remember that you need to match the colors well to look good in other seasons as well. This is why it's advisable to plan slowly using small amounts of paint on the part of your house for a while.
3. Take hints from the environment.
Your house exterior mentioned isn't just the house colors and the surrounding environment. You may decide to paint your house a shade of blue only to notice that it stands out among the other houses in the neighborhood.
When choosing a shade of blue for your house, consider the colors of the adjacent houses:
If they have a darker color scheme, this is your sign to choose a darker shade of blue so that it blends in with the other houses. This goes for brighter options as well.
Another consideration is the fixtures around the house. Various color options could be complemented by the blue you choose for your house.
Fixtures are tiny details of significance and will be discussed in depth later in the article.
4. Use a color palette
A color palette is something most people notice when looking at the color harmony of a house. The right combination of colors gives a balanced and visually pleasing finish.
The color blue in the color wheel can be matched with various colors discussed later in this article.
The best blue exterior house color options
Now that you know how to choose the blue of your liking let's know the various options you have on your plate. When selecting these shades, consider the size of your home, the environment, the greenery, and the house fixtures.
1. Light blue
This is a warmer shade of blue that stands out while at the same time being just enough to make your house exterior blend with the surroundings. Various situations call for light blue colors:
A home surrounded by trees but is visible from the road
A home with vegetation of darker shades
Some of the light blue colors you may go for are:
Turquoise
Turquoise is a visually appealing choice that goes well with white, cream, pink, and yellow colors. It can also go well with green, being a light color.
It gives a juicy hue that makes you just want to have that "I'm home" feeling.
Blue-gray
Light shades of gray are in style as they do not look funny at night. When it comes to blending in with the dark, blue-gray offers you just the right option.
This color has a modern look that gives you a simple yet sophisticated finish. It also goes well with light colors such as white and cream.
2. Brilliant blue
Do you want a charming, welcoming, and aesthetically pleasing color for your house? Then brilliant blue is the right to-go option for you.
It has a variety of rich shades that will certainly make you smile with satisfaction every time you approach your house. Some shades of brilliant blue are:
Aqua blue
Are you looking for the right color for your beach house? Consider aqua blue. This color goes well with wheat, white, and cream.
Aqua Blue is a great color to pair with the sand in the background; this is a year-round option because the sand never changes.
True blue
Aqua blue is a neutral color for those overly exposed houses that just need some color—surrounded by brownfields and grass? True blue pairs well with muted hues of beige and gray, making it the perfect option for you.
3. Dark and navy blue
Dark blue and navy blue offer an elegant, bold look for a house. They set a relaxing and calm tone for the home.
The dark color goes well with a bright day and at night. A good appeal is suitable for those days you'll arrive home late, and those days you'll be home during the day.
Navy blue is one of the most considered shades of blue, offering an elegant and neutral look.
Dark blue colors have some common options:
This is one of the dark shades of blue, and it goes well with white fixtures.
A brown roof and curb match this type of blue well to bring color harmony between the two dark colors. The sliver of white for the fixtures adds an accent that stands out at night and during the day.
Teal blue falls between dark blue and softer and lighter shades of blue. This color may be matched with light-colored fixtures to give them a contrasting highlight.
Painting the doors with darker shades of brown or other colors opposite in the color wheel creates a contrast that sits well with the blue color.
It also goes well with grey asphalt shingles. This, combined with white fixtures, creates a color balance that is appealing to the eye.
Finding the right color harmony for your blue house 
Using the right colors for your house matters. After choosing the perfect blue, some colors go well with the choice, and some might be an eyesore.
Here are a few pointers for matching the right colors with your blue house:
Contrasting colors
As blue is a neutral color, white goes well with any blue. Using both white and darker shades of blue creates an aesthetic appeal, especially if white is used as an accent color.
Contrasting colors are opposite in appearance, for example, bright and dull colors. These distinguish between a calm option and a more vibrant one that mixes to give an eye-catching finish.
Brighter shades of blue can go hand in hand with darker shades like blue-gray and light blue. The correct use of these colors is important as it can be risky to mix two shades of the same color.
You can incorporate some white to balance the sudden change in the colors. This gives a smooth transition that aids in mixing two shades of the same color.
Complementary colors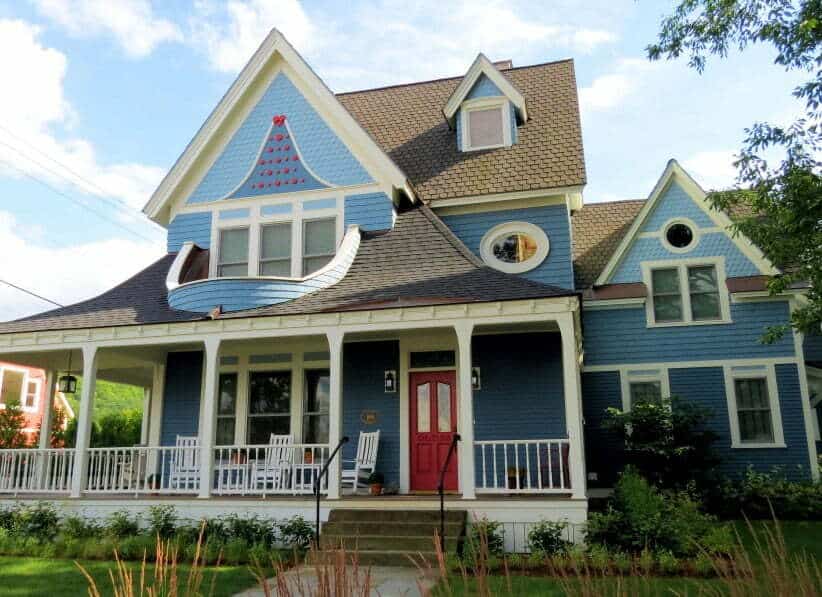 These are any two colors on the opposite side of the color wheel. The complementary colors of blue are orange and yellow.
These colors can be matched as long as bright colors and dark colors go together. This is to prevent a clash by mixing bright and dark colors that are totally different.
A bright yellow may go well with light blue or orange. These colors stand out in a house in an open place like a beach.
Bright shades of pink used with brilliant blue give out dreamy looks and a feeling of joy. Bright colors often look different at night, and you should therefore test the colors out on the part of your home first.
Dull shades of orange and colors like dark pink can be matched with dark shades of blue. For example, navy blue and dark pink or orange brings out a nice but dimmed look that is appealing both day and night.
Dark colors
Dark colors match well with bright colors and also other dark colors. Using dark shades of blue with other dark colors can be risky if the right colors aren't matched.
One method of matching dull colors is to use complementary colors. Dark shades of blue go well with dark shades of yellow to orange.
Summary: Picking A Blue Exterior House Color
Idea For Picking The Best Blue Exterior House Color
The first thing that introduces you or a guest to your house is a welcoming curb. This is also important for getting a good deal when selling your home, so it's important to know how you can increase curb appeal by picking out a blue exterior house color that pops!
There are a few methods you can apply to make your curb stand out for a blue house;
Match the color of the fixtures on the house with the mailbox.
Use a contrasting color for the door. A color that stands out catches the eye; the door is the first thing someone will look at when approaching your house.
Paint your porch or patio in a complementary or contrasting color. This prevents the monotony of having all blue and having something else back up the beautification.
Your lights are part of the house. Paint any porch lights and exterior lights to accent the blue.
Use bold accent colors for your shutters and other fixtures.
Paint your garage using friends of blue.
Ready for some more DIY tasks? Check out our range of articles from using learning how to use paint sprayers, or how to paint wrought iron, removing paint from your favorite brick wall, or getting creative with concrete or glass!